Product Review: Ginger Chi Exfoliating Bar & Moisturizing Oil
Ginger Chi's exfoliating bar is just one of the products I had the pleasure of sampling, and I think it was my favorite. It is honestly hard to pick a favorite from Ginger Chi, but this was by far the most effortless product and also had the biggest impact.
The soap bar is made with exfoliating almond meal, organic ginger, raw honey, Vitamin E, and the oils of coconut, sweet almond, jojoba, shea and cocoa butter. The almond meal scrubs off dead, dry skin while the other ingredients nourish and moisturize.
Like most of you, my skin gets very dry during the winter. My legs especially get dry because I simply don't take the time to moisturize them everyday like I do in the summertime. It just doesn't cross my mind as much whenever I'm wearing pants everyday instead of sun dresses.
When I started using the soap, I assumed it would moisturize a bit and in the least, get my skin clean. After I used it a few times, I noticed a dramatic difference in my skin. I focused on my legs when using the soap, still skipping on lotion or cream everyday. Even without using cream and solely using the exfoliating bar, my legs and even my knees became soft and smooth as if I had just applied a cream. It is currently on sale at 30% OFF, so you can order one for just $3.50 a bar. For something all-natural and as luxurious as this bar is, the price is incredible!
If you have trouble with dry skin and especially if you need to use natural skin products, I cannot stress enough how much I recommend you give this soap a try. It is currently on sale at 30% OFF, so you can order one for just $3.50 a bar. For something all-natural and as luxurious as this bar is, the price is incredible!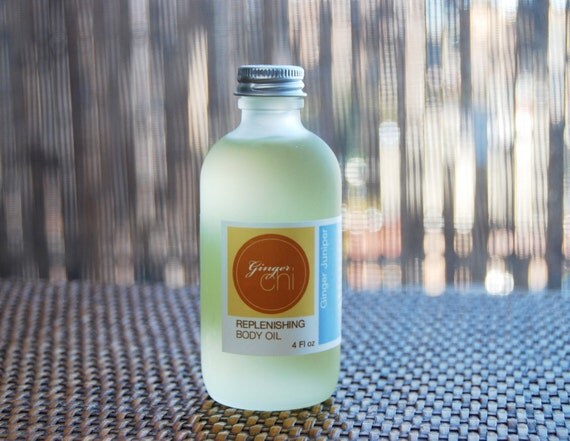 After I tested the soap exclusively for a few weeks, I incorporated Ginger Chi's Ginger Juniper Replenishing Body Oil (pictured right). It is made without any parabans, petroleum mineral oil or artificial color. It is made of a blend of nourishing oils like Sweet Almond Oil, Grapeseed Oil, Organic Jojoba Oil, Organic Coconut Oil and Vitamin E. These oils are very nourishing, and the great thing about moisturizing with oils is that they penetrate deeper into the skin than lotion can.
I've even used this in my hair as a deep conditioner before shampooing, and it works wonders on my dry hair and split ends!
Another great thing about this oil is it lasts a long time, because a little bit goes a long way. It is scented with Ginger, Frankincense, Geranium plus Juniper Berry, Lemongrass & Lavender. I think the scent is perfect-not too strong but just strong enough.
However, if you have oily skin and are prone to acne on your neck, chest and back; I do suggest that you only use this on your legs and arms or at least test in on a small area of your chest or neck to make sure it doesn't cause you to have an acne flare up.
The body oil is also 30% OFF.
Click here
for more info or to place your order.
Overall I was also very impressed with the product packaging. All of the liquid products come in beautiful glass bottles with professional labels. And the dispensers are all tailored to make each individual product easy to apply. This is something I'd buy again for myself and would also be happy to give as a gift.
You can find other great natural skin care products in
Ginger Chi's Etsy Shop
. If you would like more information on the company or traditional Chinese health, you can check out
www.gingerchi.com
and the Ginger Chi blog.
*I was not monetarily compensated for this review. I was provided a sample for review purposes. All expressed opinions are solely my own.