Super Bowl Recipe Throwdown: NY Buffalo Chicken Bites vs New England Lobster Nachos
posted by Christina Williams, February 5th, 2012
A big thank you to 2 Sisters 2 Cities and Making Our Life Matter for joining in the
Superbowl Appetizers conversation
in our
Blog Entourage Community.
2Sisters2Cities.com
is written by 2 sisters of course, one living in Boston and the other living in NYC. They recently had a Superbowl recipe throwdown featuring
Lobster Nachos and Buffalo Chicken Bites
.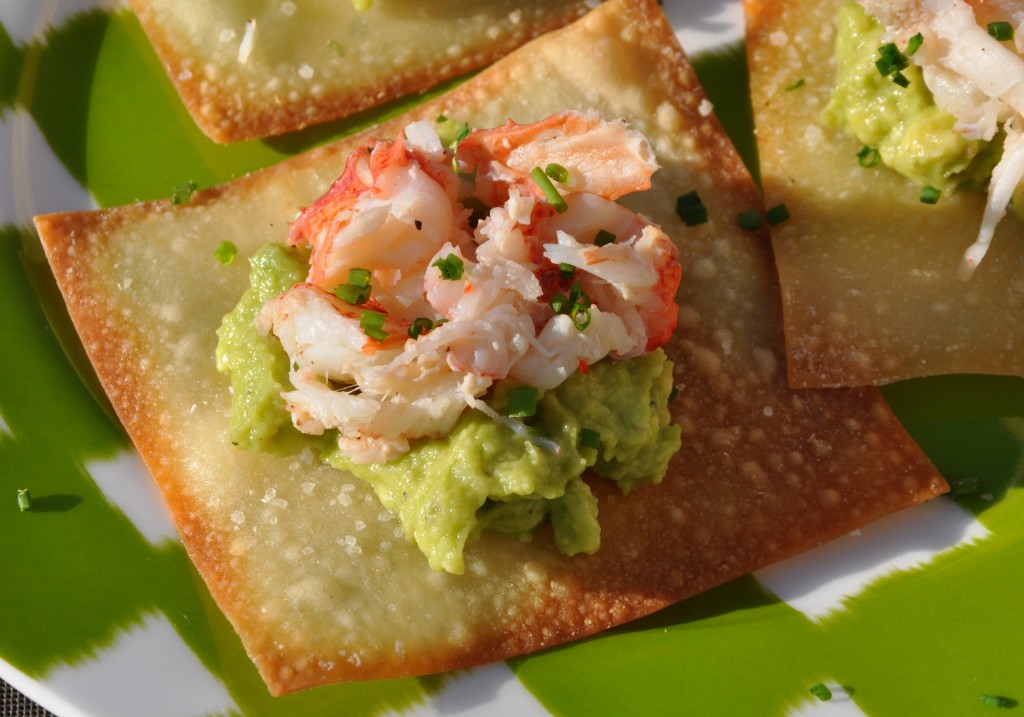 I have to give major props to Sister M from Boston (representing Boston and New England) for going the extra mile using fresh, live lobsters, who she named Eli, Victor, and Hakeem.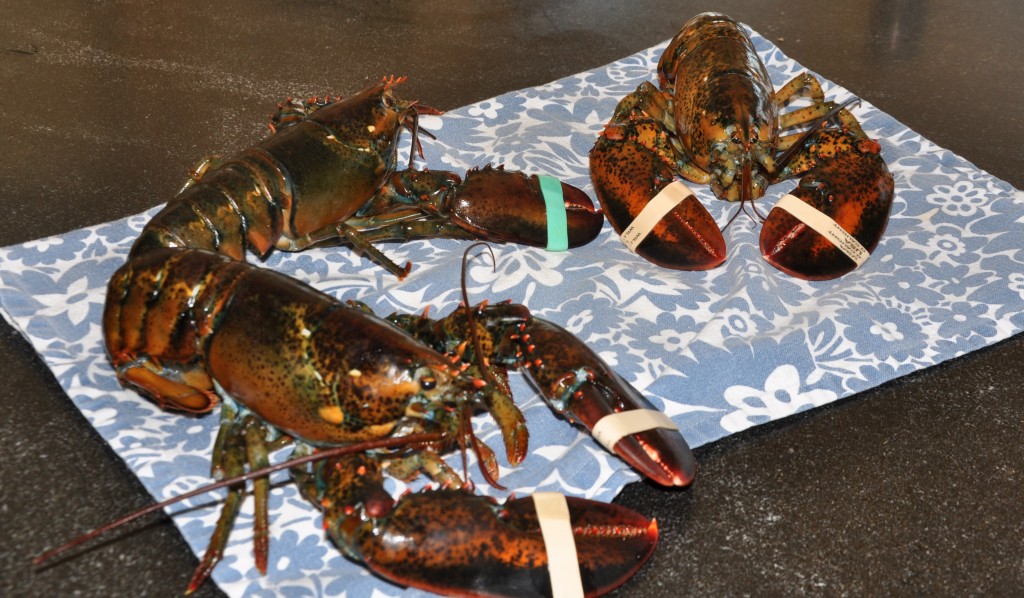 Lobster Nachos
Ingredients:
24 wonton wrappers
1/2 stick of unsalted butter
3 ripe avocados
1 shallot, diced
1 lime, juiced
2-3 small live lobsters, (or pre-cooked lobster meat if you prefer not to steam them)
1/4 cup chives, minced
kosher salt
pepper
Directions:

Preheat oven to 375 degrees. Melt the butter in the microwave or a small sauce pan. Brush both sides of each wonton wrapper with the melted butter and place on a baking sheet (I used two baking sheets and was able to fit 12 wrappers on each sheet.) Lightly sprinkle with kosher salt.
Bake for 5-8 minutes, rotating the baking sheet if one side appears to be cooking faster than the other. Keep an eye on the wonton towards the end of the baking time so they don't burn. Remove from the oven when golden and cool on a wire rack.
Meanwhile, begin cooking the lobsters. Lobsters can be boiled or steamed. I think the meat has a better and less soggy texture when they are steamed. To do this, fill a pot with less than 2 inches of water and bring up to a boil. Place the lobsters in (always head first- if you put their tail in first they will flip it up and you will be sprayed with scalding hot water!) Generally cook at least 7 minutes per pound of lobster in the pot (we cooked these three for about 28 minutes).
Sister K representing New York made
Chicken Buffalo Bites with a Blue Cheese Dressing
.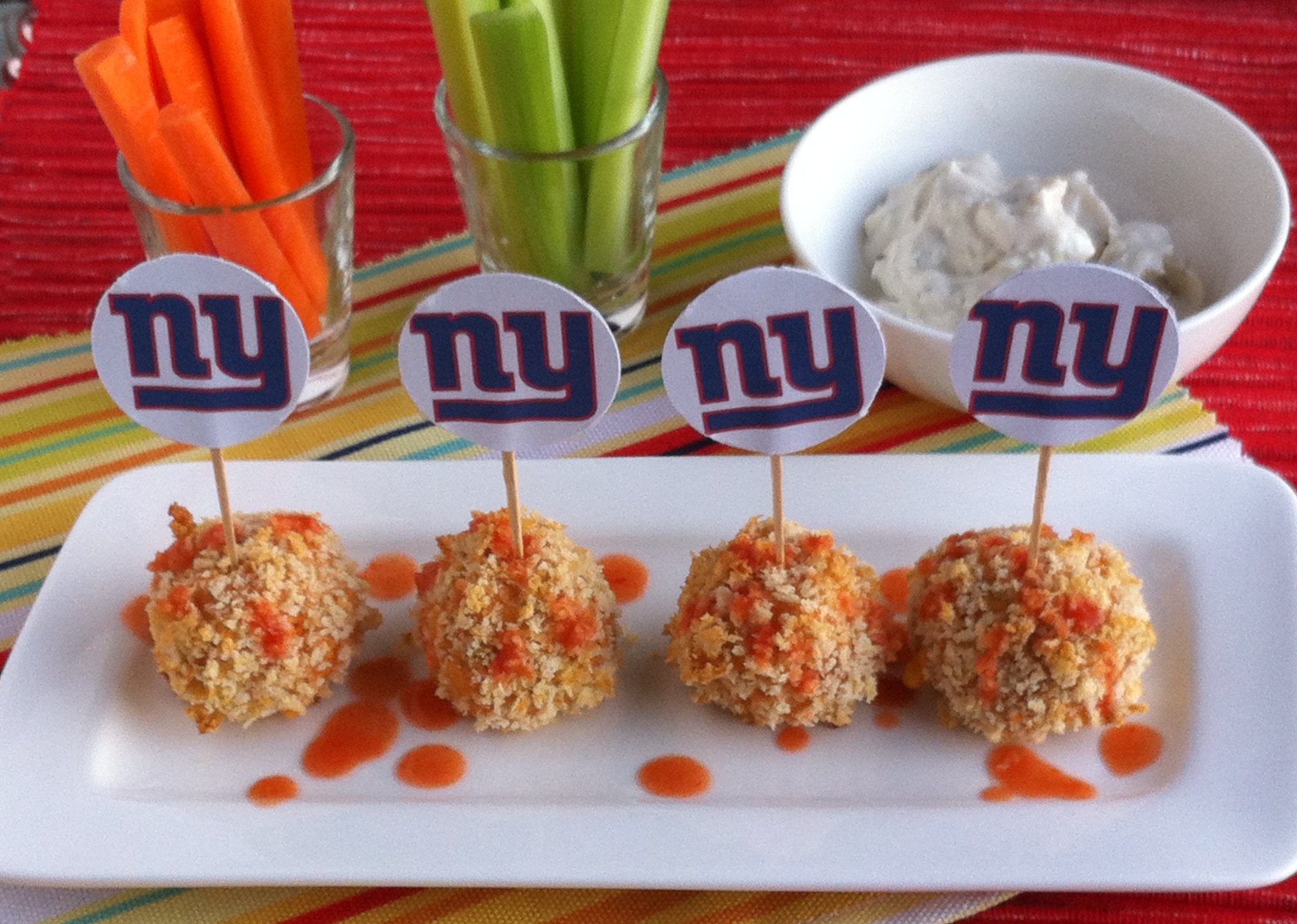 Buffalo Chicken Bites with Homemade Zesty Blue Cheese
**Makes 9- 4 piece servings
Ingredients:
3 cups of cooked shredded white meat chicken (I used a rotisserie chicken)
1/2 cup of hot sauce plus additional to drizzling (I used Franks)
4 oz. reduced fat cream cheese
1 3/4 cup reduced fat shredded cheddar
1/4 cup of sliced scallions
1/2 cup all-purpose flour
1/2 cup whole wheat flour
1 whole egg
2 egg whites
2-3 cups of Panko (Japanese bread crumbs)
Directions:
Preheat the oven to 350 degrees. Line a baking sheet with parchment paper or a non-stick silicone mat. Prepare three bowls with flour (both all-purpose and wheat in one bowl), 1 egg and 2 egg whites whisked together, and then the panko.
In a large bowl combine the shredded chicken, cream cheese, and hot sauce. At this point you can taste the mixture to see if you want to add additional hot sauce. Next stir in shredded cheese and scallions. Using a medium cookie scoop or a rounded tablespoon form the mixture into balls a little smaller then a golf ball. This should make 36 balls. Place the balls on a large plate or platter. Once all the balls are formed take each ball and dip in flour mixture, shaking off excess flour. Then place chicken balls in the eggs and finally panko crumbs, making sure to press some of the panko into the chicken balls to stick. Next place onto lined baking sheet (*look at tip at bottom of recipe.) Bake for 20-25 minute until lightly browned and crispy. Drizzle with extra hot sauce and serve with Zesty Blue Cheese, carrot sticks, and celery sticks.
*If you don't want to make all 36 Buffalo Chicken Bites, you can freeze them before you cook them. I placed them on a separate baking sheet and allowed them to freeze for about 30 minutes then placed them into a freezer bag. When baking frozen bites- add an additional 5 minutes to baking time.
Source
- adapted from
Pennies on a Platter
For Zesty Blue Cheese-
**Makes about 8 servings
Ingredients:
1 cup light mayonnaise
1/2 cup crumbled blue cheese
1/2 tsp. kosher salt
1/2 tsp. fresh crushed black pepper
2 tbsp. red wine vinegar
2-3 minced cloves of garlic
Milk or buttermilk to thin down dressing if needed
Directions:

In a medium bowl, combine all ingredients. Add milk to thin out dressing to the desired consistency. Cover with plastic wrap and allow to refrigerate for at least an hour before serving.
This is a tough decision to pick a favorite! I live in Maryland, so I am partial to the New England Lobster Nachos. On the other hand, I looooove Blue Cheese Dressing. I think I'm going to have to pick the Lobster Nachos. Sister M did use live Lobsters after all. Of course being in Maryland, I'd have to make it with crab meat.
I'd also like to say thanks to Jen of
makingourlifematter.com
for sharing her recipe for
Buffalo Chicken Dip
.
If you visit
2 Siters 2 Cities
and leave a comment letting them know which recipe is your favorite, you could win a round-trip Bolt Bus ticket!
Everyone have a great Super Bowl Sunday! I'll be avoiding the game. I only know who is playing because I heard Martha Stewart talking about it on her show. That should tell you where my priorites are!