Easy Red, White, & Blue Desserts
Strawberry Dessert Pizza
by Mommy's Kitchen
- This is a unique, showstopping dessert that couldn't be easier. You start with pre-mixed refrigerated sugar cookie dough and top it with cream cheese, strawberry glaze and sliced strawberries. You can make this dessert pizza red, white and blue by adding blueberries.
Firecracker Cookies
by Cookin' Cowgirl
- I love these cake-batter cookies by Cookin' Cowgirl. All you have to do is add
red and blue sprinkles
to this sugar cookie batter, and you've got a yummy patriotic dessert that is perfect for a party or to give as a gift.
Flag Cake
by Pardon My Crumbs, including recipe by Ina Garten
- I know what you're thinking...
last-minute, my ass
. But if you want to wow guests and don't have a lot of time, a flag cake is your go-to dessert this 4th of July. Seriously, just go get a premade white sheet cake from your local grocery-store bakery, some easy-squeeze icing with a star-tip dispenser (yes I just said easy-squeeze icing), and some strawberries and blueberries. You don't even have to put the star details on the blueberries.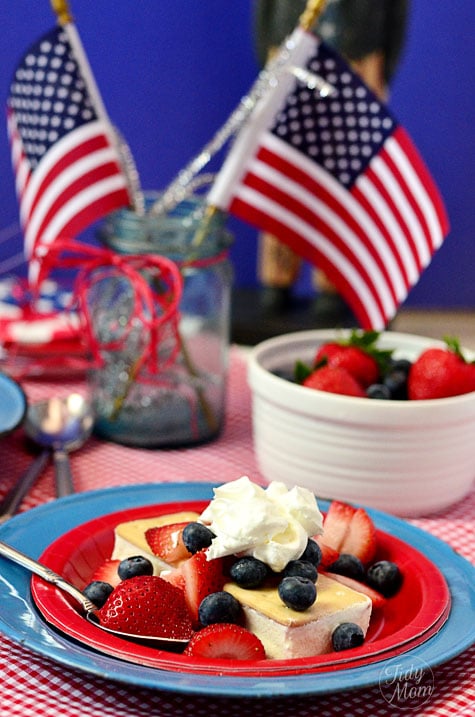 Patriotic Shortcake Ice Cream Sandwiches
by Tidy Mom
- This festive dessert couldn't be easier. Stick an ice ceam sandwich on a plate and top it with strawberries, blueberries, and whipped cream and you're done! This is the perfect patriotic dessert if you're having a lot of children at your gathering.
Here are some more last-minute dessert ideas for your Fourth of July celebration. These easy dessert ideas don't require any measuring or ingredient lists, just a quick trip to the store and about 1/2 an hour to assemble.
1. Fruit Kabobs: You've all seen these on Pinterest by now. All need is skewers, marshmallows, and fruit.
2. Red, White, and Blue Trifle:
This is so easy an delicious. Simply purchase a premade angel-food cake, strawberries and blueberries, instant pudding and whipped cream. Slice the cake and place it in a deep-dish container or
trifle serving dish
. Layer it with the pudding (preferably vanilla) and the berries. Garnish the very top layer with whipped cream and fruit for a red, white and blue dessert.
3. Fruit and Cream Cups: for a low-fat, low-calorie Fourth of July dessert, simply fill decorative paper cups or little glass jars with strawberries and blueberries then top with a dollop of light whipped creme.
4. Instant Strawberry & Blueberry Shortcake: Start with pre-made, pre-sliced vanilla pound cake from your grocery-store bakery, then simply top with berries, strawberry glaze, and whipped creme for an instant patriotic dessert.
5. Berry Shortcake In A Jar:
Everything is cuter in a jar. Use the idea from #4, only assemble it in
8 oz. jam jars
for a charming country party. I love making trifles or shortcake this way for a party. It is an easy way to make a large number of individual desserts ahead of time. Best of all, other than taking them out of the fridge and placing them on a buffet, there is virtually no serving time. I also like how they're reusable. It's the perfect way to serve dessert if you're an eco-friendly hostess.
6. Red, White and Blue Mini Cheesecakes: Check in the frozen desserts section of your local grocery store for pre-made mini cheesecake squares or a plain New York style cheese cake. Simply top it with strawberry glaze, strawberries and blueberries.
7. Instant Fourth of July Tartelettes: Check in the frozen desserts section of your local grocery store for pre-baked mini phyllo shells. Fill them with vanilla pudding and garnish with fresh berries. To take the flavor up a notch, mix fresh vanilla bean into the pudding before you fill the phyllo cups.
8. Fourth of July Cupcakes: Start with instant cupcake mix, then decorate the cupcakes with white icing and red and blue sprinkles. I know these aren't exactly unique, but if you need to provide several desserts, make one beautiful dessert and one easy dessert, like cupcakes or cookies.
9. Patriotic Chocolate Pretzels: I love these the most because they don't require any measuring or baking, and because they're chocolate of course. Spread mini pretzels over a wax paper-lined cookie sheet, drizzle with melted white chocolate, and top with red and blue sprinkles. You can also do this with dipped pretzel rods.
10. Patriotic Marshmallow Pops:
Place jumbo marshmallows onto
patriotic paper straws
, dip in melted white chocolate and sprinkle with red and blue sprinkles. The pretzels and marshmallow pops are also a great party activity for kids. Set everything out assembly-line style and let them make their own. That's more fun for them and less work for you.