6 Modern Christmas Decor Ideas
If Santa hats and reindeer on the lawn aren't your style, modern Christmas decor is just the thing for you. You aren't limited to basic jingle bells, red ornaments and tinsel. More than ever, people want to define their holiday spirit with a little more personalization. "Ho, ho, ho" is still bellowed on Christmas Eve, but your home can shout with a modern look that is sure to please the eye. Here are six modern holiday ideas to get you inspired.
Image above via Horchow Mercury Glass Spheres
1. An Alternative Kind of Green
Experiment with alternatives to evergreen, like bay leaves or magnolia leaves. Amaryllis bulbs are a beautiful and festive alternative to poinsettias, giving you green foliage and a white or red blossom. Arrange them on a mantel with white lights and sleek ball ornaments, or line them up on your dining table for an elegant modern centerpiece.
Images via Pottery Barn Live Magnolia and Fir Garland and Atherton Holiday House Tour via Houzz
2. Playing with Scale
Clear out one entire wall and add large ornaments hanging from the ceiling or arrange a trio of over-sized wreaths for a modern holiday display. This still shows you have the holiday spirit while keeping the decor crisp and fresh. No need to dot the walls with clutter that just blurs together upon a quick glance.
3. An All-White Christmas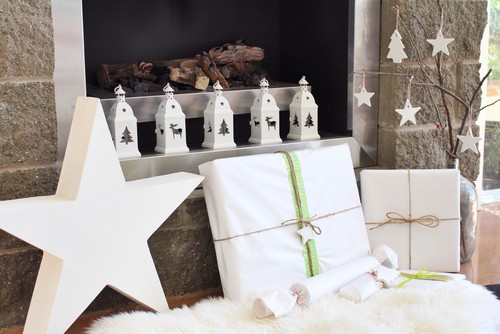 You don't need red and green blasting color all over the house to achieve a festive look. Try the newest Christmas decor trend with all white. Add a white furry throw blanket, reminiscent of blanketed snow, and incorporate modern elements like the simple white star repeated throughout the decor pictured above.
Image via RedAgape Blog

4. A Minimal Holiday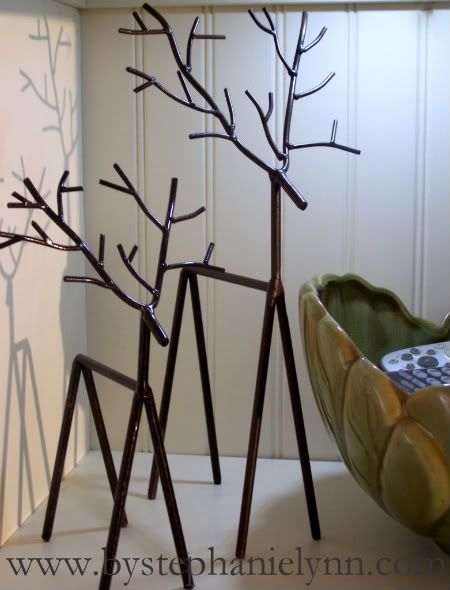 Your home is filled to the rafters with holiday visitors and presents, so adding complicated decor choices just makes the space even smaller. Use these reindeer as a reminder of the minimalist spirit. Created from wood dowels, these adorable reindeer still convey the holiday spirit without too much space taken away from the family.
Image via

ByStephanieLynn.com
Image via Pottery Barn Antique Mercury Glass Pillar Holders
6. Small Space, No Problem
Adding a tree into a small home can be a nightmare. There are so many modern Christmas tree options for a small space. Use branches in a large vase with simple ball ornaments or pom poms, or use a blank wall to create a washi tape tree.
Image via Homey Oh My
There's no one way to decorate the home at Christmas, so use your imagination and crafting experience to drum up new decor creations. From an abstract door accent to an actual wall painting, the sky's the limit with modern Christmas decor.